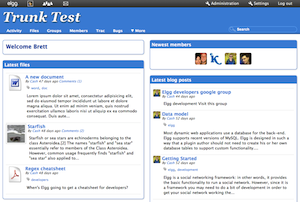 After many months of heavy development the core team is pleased to announce that Elgg 1.8 beta1 is available for download! Remember this is a beta and is meant for developers and bug hunters, so please do not use this on a production site! Addressing over 650 issues, Elgg 1.8b1 is a milestone release representing the most improvements to Elgg since Elgg 1.0. If you haven't been following Elgg 1.8's progress, here's an overview of the main features:
A new, more intuitive default theme.
A redesigned admin area to help you more easily manage your network and users.
Simpler HTML and CSS frameworks. This mean Elgg themers' lives just got easier!
Better caching and easier inclusion of external CSS and JS.
A new elgg.js object that allows quick and easy ajax integration, i18n, automatic security token renewal, and other advanced features.
A new, more robust menu system.
A new forms system including sticky forms to prevent content loss.
More advanced plugin management features for developers.
These features are just part of what makes Elgg 1.8 so exciting. There are a number of changes to Elgg 1.8, so plugins written for Elgg 1.7 shouldn't be expected to work immediately on Elgg 1.8. The core team is publishing guidelines for updating 1.7 plugins and themes, and Cash is working on a
plugin
that will provide compatibily for older plugins and themes. Also, if you missed it, Cash wrote
a post
on how developers can start preparing their plugins for Elgg 1.8.
Elgg 1.8 is shaping up to be a significant release. We're looking forward to hearing about your testing, receiving bug reports, and receving other feedback about the beta!